Home
I am so happy to meet you 🙂 (even if it is online). It's wonderful to meet in person but I know many of you lead very busy lives or we may live across the world. Thanks to technology it's easy to have a coaching call on skype,  messenger or whatever works for  so we can get the most out of our coaching sessions.
Live Your Best Life Daily a website created by me for you. Bringing passion, purpose and real conversation to people like you who want more from their daily life. Life is short, life is complicated and we long to want live life the best we can each and every day.
Don't forget to get your gifts… bookmark the website and share with friends, family and those you know already got them click here…
…and please share with your friends, post on your Facebook page, social media circles and let's make change together…
Andrea
Are You Ready to Live a Better Life?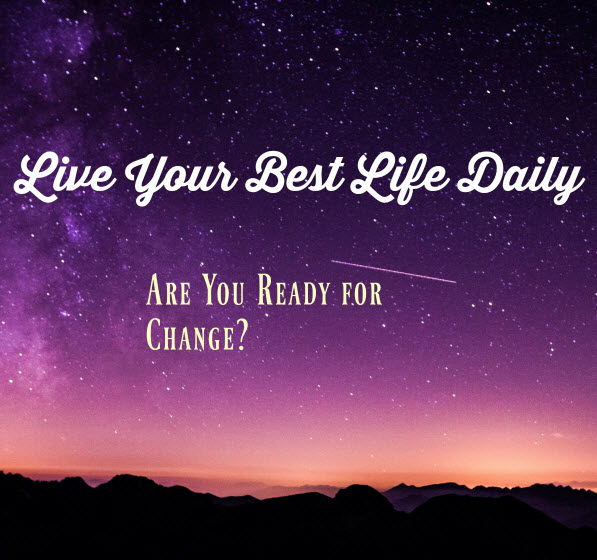 Have you ever felt like there's for something more… feel left behind, that you've missed something and deep down you've felt disappointed, disenchanted.. life was not exactly what you expected t to be… 
… I know I have many times in my life… for years I thought it was me… I didn't feel like I belonged, I expected something magical or exciting to happen and it never came…
We grow up in a word of other people's idea's, fantasies, we watch advertisements, movies and tv shows and sometimes we wait for life to be like that… the romance…the adventure… the excitement… and it doesn't quit happen like that.
One day you ask is this it, is this all that there is… I came to realize that more of us really feel like and I also came to realize I am the architect of my journey… I am the one that must make it happen, step out, find the courage, prioritize what really matters…
…to heck with expectations, norms and to shut up and put up. with what's handed to me…
…and even more important is the clock is ticking, time waits for no one, all we have is now, so it's time to change it, live it and do it each and every day!  So how do you do this…
What is a Living a Better Life All About?
You do it by really taking a look at where you are right here and now, being brutally honest about what you don't want and really want going and upping your game in life. That might make some of you feel a little uncomfortable at first… but isn't it worth it…
We can't wait for perfect… because perfect doesn't exists…we have to stop waiting for the right time, because there is no right time… ts time to wait til we have it all together, because like Dr Phil says :hows that working for you" … because life is messy, it's real…
So its time to embrace that right here and now and build on what we have… we are not waiting for a health scare, a wake up call, a job loss… we will take the best of today… live it fully, freely, the very best we can… that is how you live your best life daily… with no apologies for who we are…
How to Create a Better Life Daily?
Sometimes we have to get a little self "ish"…  and that a very good habit to get into… because when do, we give ourselves permission to take care of ourselves…  when we feel better, we're  more confident, more fun and people want to be around us,,,which in turn makes us feel more valued…
We attract good things, the right people, better opportunities situations, because our energy is higher… we attract more of what we want and everything begins to shift…
This is how we live our best life daily… and I can't wait to be there on this journey with you…
Here's to life
Lie your best life daily… each and ever day
~ Andrea
Join Us ~
Facebook
Instagram
Youtube
Twitter